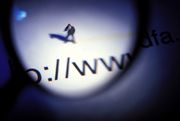 Introduction
Advantos Enterprise ASP clients are assigned a directory on our secure FTP server(s) in order to upload and download files to and from the Advantos Enterprise ® application. These servers are secure and use a secure and encrypted method to transfer your financial files. To access this directory, ASP clients need to install a secure FTP client on one of the computers in their office. This computer will be assigned the task of uploading and downloading files to the Advantos Enterprise ASP secure FTP server.
Downloading a Secure FTP Client
Finding a secure FTP client is as easy as entering "secure ftp client" in any internet search engine like Google, Yahoo, Ask, etc. There is a free secure FTP client available called Bitvise SSH Client (formerly Tunnelier) from a company called Bitvise. This client software is free for single PCs. Be sure to download the most recent "stable" release.
Click on the "Download Bitvise SSH Client (Tunnelier)" link to download the most recent stable release. Once you click on the application download link you will be asked to save the installation file somewhere on your client PC. Normally this would be "Downloads" or you can save the file to your desktop (so you can install from there).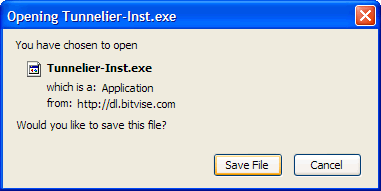 Installing the SFTP Client Application
Normally, you would simply double-click the executable file you just placed on your PC's desktop. Then you would follow the installation instructions. This application normally installs into your C:\Program Files\ directory. We always recommend you install software on a drive that doesn't hold your operating system. However, most PCs delivered use only one drive, the "C:" drive. Almost all PC applications will install on this drive by default, so this location is fine. Often, users will want to save an application onto their "Desktop", so this option can be selected during installation.
Once installed, you should then be able to click on the ""Desktop" icon or click on the[Start] button located on your Windows taskbar then find the application in All Programs.
Configuring the SFTP Client Application
Configuring the secure FTP client application is as simple as saving the configuration file sent to you by an Advantos support email.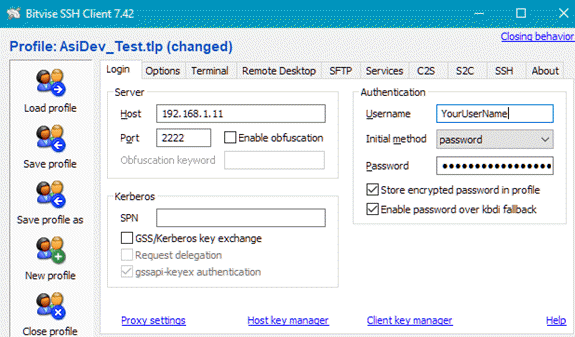 Sometimes the "SSH" tab needs to be configured. If so contact Advantos support. Also, click the "Closing Behavior" link and select "Always Exit". This will ensure that if you close Bitvise SSH Client it will disconnect from our servers.

It is often advisable to move the Tunnelier configuration file to a network location (for safe keeping). Once this is done you simply open tunnelier then load the profile from where you just saved it. This allows everyone in your office to access this configuration, assuming Bitvise SSH Client is installed on other computers in your office.
Using the SFTP Client Application
Open your new secure FTP client and select the configuration to our secure FTP server. When you connect you will see something like the following: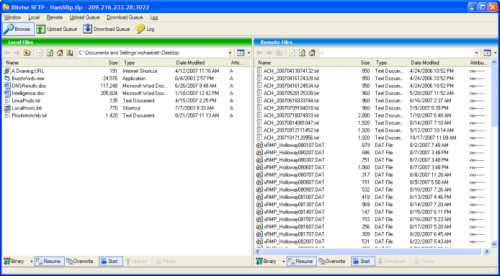 This is a standard double-pane view with your desktop in the left pane and your ASP ftp directory, on our secure FTP server, in the right pane. You can drag'n drop files from your desktop to your directory on our secure FTP server. From here, the Advantos Enterprise ® application can use these files to import data into your database.